Welcome
We are a student organization sponsored by Institute of Computational Mathematics & Scientific/Engineering Computing (ICMSEC), Chinese Academy of Sciences (CAS). We were founded in June of 2011 by a small group of enthusiastic students in ICMSEC, on the initiative of Professor Lloyd Nick Trefethen FRS (SIAM President of 2011--2012) and Professor Ya-xiang Yuan (our Faculty Advisor).
Our main goals are:
To build strong connections between SIAM and the students in CAS, between students and faculty, and among students from different research areas.
To encourage and help students to apply mathematics to real-world problems, by establishing links with industrial partners.
To promote the development of industrial and applied mathematics in CAS, even in China. This is our long-term goal. It is in this list because we believe that the optimal way to develop any science is to make more students get involved, as students are the future.
For past and future activities, please visit the Activities Calendar.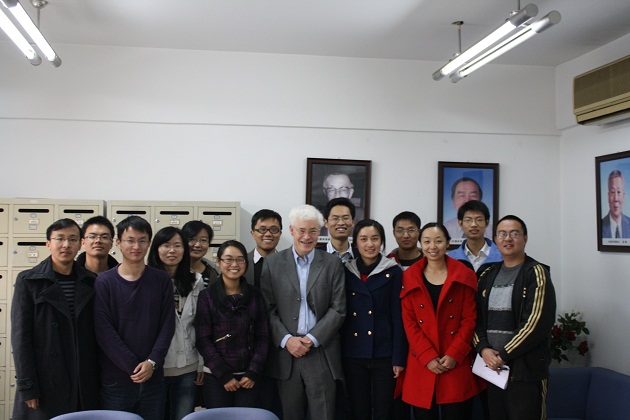 Meeting with Professor Nick Trefethen FRS, Nov 1, 2011
Latest News
new!
Lecture of CAS SIAM Student Chapter 2016-2017(III)
On March 21, 2017, Zhenli Sheng was invited to give us a lecture named "Optimization Problems We Solve in Huawei" in Lecture of CAS SIAM Student Chapter. Dr. Zhenli Sheng graduated from AMSS, CAS in 2015. His major was nonlinear programming and he focused on solving distance geometry problem. He served as Chair of CAS SIAM student chapter in 2012~2013. After graduation, he joined Huawei(Hangzhou) as an senior algorithm engineer. His main work is mathematical formulation and algorithm design and implementaion for real-world problems, including SDN routing, Smartcare parameter adjustment and capacitated facility localization and so on. He has filed two patents and won several valuable awards for his significant contributions.
In his talk, he mainly talks about several different optimization algorithms currently used in Huawei. In the beginning, he gives some brief introdutions about research institution of Huawei all over China. Then, he converts the challenges in communication field to mathematical models. Next, he brings up two algorithms: Constraint Column Generation and Lagrangian Relaxation. Besides, he also mentions some interesting related problems of optimization when it comes to application, such as capacitated facility localisation and scheduling in cloud computing. Addtionally, he admits that there is still a long way to go to improve the behavior of the algorithms in convergency.
The talk attracted quite many graduate students with various academic backgrounds, especially those who major in optimization and are interested in Huawei.