Welcome
We are a student organization sponsored by Institute of Computational Mathematics & Scientific/Engineering Computing (ICMSEC), Chinese Academy of Sciences (CAS). We were founded in June of 2011 by a small group of enthusiastic students in ICMSEC, on the initiative of Professor Lloyd Nick Trefethen FRS (SIAM President of 2011--2012) and Professor Ya-xiang Yuan (our Faculty Advisor).
Our main goals are:
To build strong connections between SIAM and the students in CAS, between students and faculty, and among students from different research areas.
To encourage and help students to apply mathematics to real-world problems, by establishing links with industrial partners.
To promote the development of industrial and applied mathematics in CAS, even in China. This is our long-term goal. It is in this list because we believe that the optimal way to develop any science is to make more students get involved, as students are the future.
For past and future activities, please visit the Activities Calendar.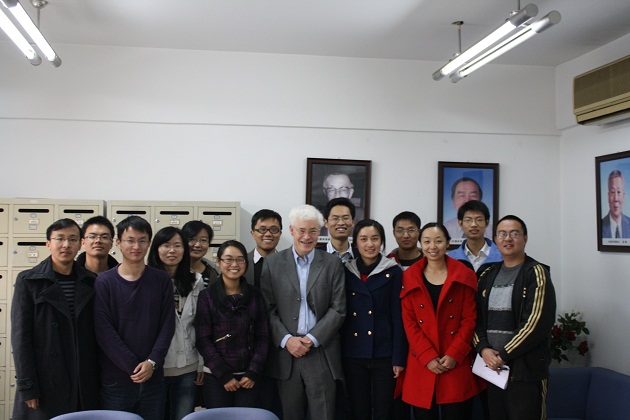 Meeting with Professor Nick Trefethen FRS, Nov 1, 2011
Latest News
new!
Lecture of CAS SIAM Student Chapter 2015-2016(I)
On October 23, 2015, Qianyuan Guang was invited to give us a talk named "Mathematics Applied in the Internet and Entrepreneurial Experience Sharing" in Lecture of CAS SIAM Student Chapter. He used to be a PM of Renren and Sougou internet companies, which makes him become a experienced and successful person. Now he is one of founders and a PM of internet company Haoyayi.
In his talk, he introduces how a internet company makes a lot of money through advertisements. He emphasizes that ideas and interest about somethig are very important for our life. He also presents some mathmatics equations in domain of internet. In recent deacades, internet techniques have changed our life. It enhances the communication between different people and speeds up the development of economy. In that case, he thinks that we can easily make big influences on people by internet. He also states the importance of mathematical thinking in internet techeniques.
The talk attracted many graduate students with various academic backgrounds, including those who are not the member of our chapter. After the talk, they had a hot discussion with the reporter.