Welcome
We are a student organization sponsored by Institute of Computational Mathematics & Scientific/Engineering Computing (ICMSEC), Chinese Academy of Sciences (CAS). We were founded in June of 2011 by a small group of enthusiastic students in ICMSEC, on the initiative of Professor Lloyd Nick Trefethen FRS (SIAM President of 2011--2012) and Professor Ya-xiang Yuan (our Faculty Advisor).
Our main goals are:
To build strong connections between SIAM and the students in CAS, between students and faculty, and among students from different research areas.
To encourage and help students to apply mathematics to real-world problems, by establishing links with industrial partners.
To promote the development of industrial and applied mathematics in CAS, even in China. This is our long-term goal. It is in this list because we believe that the optimal way to develop any science is to make more students get involved, as students are the future.
For past and future activities, please visit the Activities Calendar.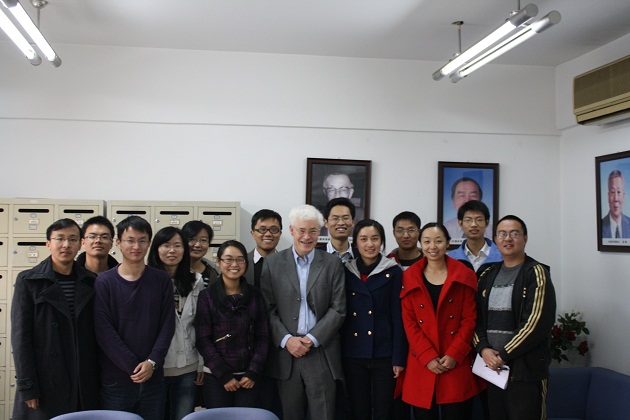 Meeting with Professor Nick Trefethen FRS, Nov 1, 2011
Latest News
new!
Exchange Meeting in Huirou
On April 23, 2016, the CAS SIAM Student Chapter held a exchange meeting at Huirou. This meeting aimed to introduce SIAM and the CAS SIAM Chapter to members who are learning fundamental knowledge in Huirou. The president Lingxiao Li gave a speech.
In this talk, President Li states the mission of SIAM. Then, He explains the privilege to be a SIAM member and distinguishes the differences of SIAM membership and SIAM Student membership. After that, He gives a brief description aout the process of the consturction of CAS SIAM Student Chapter. Finally, He introduces the mission and Constitution of CAS SIAM Student Chapter.
After this meeting, some members who want to be a new member of Executive Committee had a hot discussion with President Li. We appreciate Xiaoyu Wang who arranged this meeting.