Welcome
We are a student organization sponsored by Institute of Computational Mathematics & Scientific/Engineering Computing (ICMSEC), Chinese Academy of Sciences (CAS). We were founded in June of 2011 by a small group of enthusiastic students in ICMSEC, on the initiative of Professor Lloyd Nick Trefethen FRS (SIAM President of 2011--2012) and Professor Ya-xiang Yuan (our Faculty Advisor).
Our main goals are:
To build strong connections between SIAM and the students in CAS, between students and faculty, and among students from different research areas.
To encourage and help students to apply mathematics to real-world problems, by establishing links with industrial partners.
To promote the development of industrial and applied mathematics in CAS, even in China. This is our long-term goal. It is in this list because we believe that the optimal way to develop any science is to make more students get involved, as students are the future.
For past and future activities, please visit the Activities Calendar.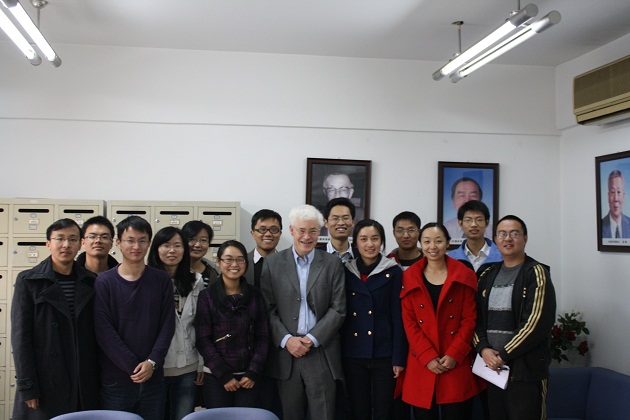 Meeting with Professor Nick Trefethen FRS, Nov 1, 2011
Latest News
new!
Lecture of CAS SIAM Student Chapter 2017-2018
On December 16, 2017, Jin Qin was invited to give us a lecture named "Mathematical method in fingerprint recognition" in Lecture of CAS SIAM Student Chapter. Dr. Jin Qin received a degree of B.S. from Beijing University of Posts and Telecommunications in 2013. Currently, he is pursuing a Ph.D. degree in University of Chinese Academy of Sciences, China. His current research interests include image processing, machine learning and pattern recognition.
In his talk, he mainly talks about overview of the fingerprint recognition development, focusing on mathematical model and mathematical method in this problem. According to his introduction,we know that the fingerprint recognition technology has become the hot spot because of its feasibility and reliability. Fingerprint identification is one of the most popular and reliable biometric techniques and it has been wildly applied to the authentication of individuals in many scenes such as electronic personal identification card, smart phone and so on. However, the vigorous development of fingerprint recognition technology makes many people have a wrong idea: it is alre- ady quite mature, the technical problems have been solved completely. While it is not true.
The talk attracted quite many graduate students with various academic backgrounds, especially those who major in optimization and are interested in fingerprint recognition.