Welcome
We are a student organization sponsored by Institute of Computational Mathematics & Scientific/Engineering Computing (ICMSEC), Chinese Academy of Sciences (CAS). We were founded in June of 2011 by a small group of enthusiastic students in ICMSEC, upon the initiative of Professor Lloyd Nick Trefethen FRS (SIAM President of 2011-2012) and Professor Ya-Xiang Yuan (our Faculty Advisor).
Our main goals are:
To build strong connections between SIAM and the students in CAS, between students and faculty, and among students from different research areas.
To encourage and help students to apply mathematics to real-world problems, by establishing links with industrial partners.
To promote the development of industrial and applied mathematics in CAS even in China. This is our long-term goal. It is in this list because we believe that the optimal way to develop any science is to make more students get involved, as students are the future.
For past and future activities, please visit the Activities Calendar.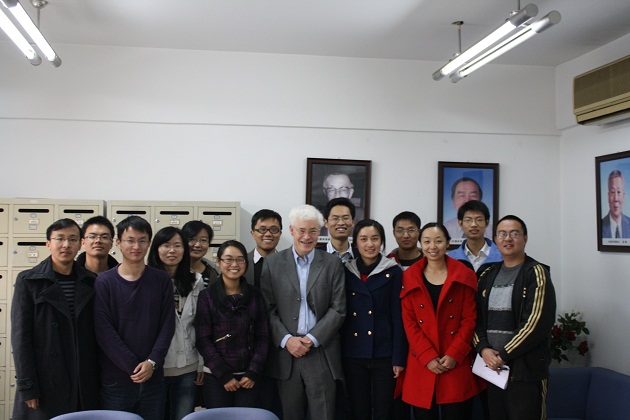 Meeting with Professor Nick Trefethen, Nov 1, 2011
Latest News
new!
Lecture of CAS SIAM Student Chapter 2014-2015(III)
On Apr. 1, 2015, Yan Xie was invited to give us a talk named "Introduction of Bing Related Search: Product, Algorithms and Infrastructure" in Lecture of CAS SIAM Student Chapter. She used to be a PHD student of Institute of Computational Mathematics and Scientific/Engineering Computing, and now works in Microsoft Search Technology Center.
In her talk, she gives us a brief introduction to Bing Related Search which contributes most DSQ and helps users explore more interesting queries. She also talks about the three important parts of the Related Search: the product part provides us many interesting cases selected from different user groups; the algorithm part introduces the framework of entire ranking pipeline and the LambdaRank/Logistic Regression model; the infrastructure part is about the online/offline metrics.
The talk attracted many graduate students with various academic backgrounds, including those who are not the member of our chapter. After the talk, they had a hot discussion with the reporter.