Welcome
We are a student organization sponsored by Institute of Computational Mathematics & Scientific/Engineering Computing (ICMSEC), Chinese Academy of Sciences (CAS). We were founded in June of 2011 by a small group of enthusiastic students in ICMSEC, on the initiative of Professor Lloyd Nick Trefethen FRS (SIAM President of 2011--2012) and Professor Ya-xiang Yuan (our Faculty Advisor).
Our main goals are:
To build strong connections between SIAM and the students in CAS, between students and faculty, and among students from different research areas.
To encourage and help students to apply mathematics to real-world problems, by establishing links with industrial partners.
To promote the development of industrial and applied mathematics in CAS, even in China. This is our long-term goal. It is in this list because we believe that the optimal way to develop any science is to make more students get involved, as students are the future.
For past and future activities, please visit the Activities Calendar.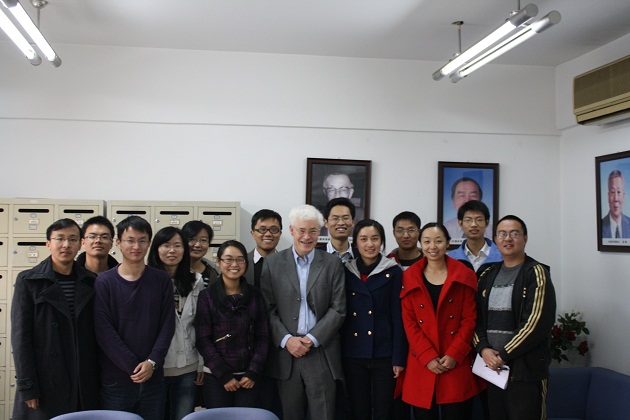 Meeting with Professor Nick Trefethen FRS, Nov 1, 2011
Latest News
new!
2016 Election Meeting of CAS SIAM Student Chapter
The CAS SIAM Student Chapter held a election meeting on June 20, 2016. We obtained 72 legal votes which is more than 2/3 of the total number of members.
There was only one candidate team with members: Dandan Chen (president), Qiao Wang (vice president), Xiaoyu Wang (Secretary) and Donghang Zhang (treasurer). There were 71 affirmative votes for the team which is over 1/2 of the total votes. Meanwhile there were 0 dissenting votes and 1 vote abstentions.
According to section 8 of ARTICLE VIII of our Rules of Procedure, this team was elected as the 6th Executive Committee. The term of the 6th Chapter officers is one year, and shall last from the beginning of the second week of academic year 2016 to the end of the first week of the academic year 2017.