Welcome
We are a student organization sponsored by Institute of Computational Mathematics & Scientific/Engineering Computing (ICMSEC), Chinese Academy of Sciences (CAS). We were founded in June of 2011 by a small group of enthusiastic students in ICMSEC, on the initiative of Professor Lloyd Nick Trefethen FRS (SIAM President of 2011--2012) and Professor Ya-xiang Yuan (our Faculty Advisor).
Our main goals are:
To build strong connections between SIAM and the students in CAS, between students and faculty, and among students from different research areas.
To encourage and help students to apply mathematics to real-world problems, by establishing links with industrial partners.
To promote the development of industrial and applied mathematics in CAS, even in China. This is our long-term goal. It is in this list because we believe that the optimal way to develop any science is to make more students get involved, as students are the future.
For past and future activities, please visit the Activities Calendar.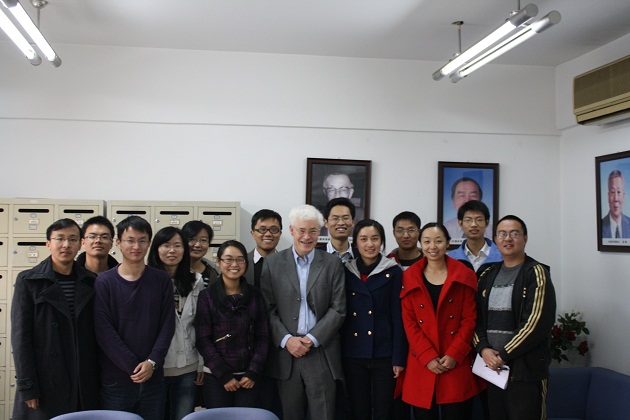 Meeting with Professor Nick Trefethen FRS, Nov 1, 2011
Latest News
new!
2017 ORIENTATION MEETING OF CAS SIAM STUDENT CHAPTER
The CAS SIAM Student Chapter held a orientation meeting on October 14, 2017. Twenty-six members attended the meeting. The president Xiaoyu Wang gave a speech about the plan of activities of the Chapter with the new Executive Committee.
First of all, Xiaoyu Wang gave a brief introduction to the Chapter and our Constitution. Then, she stated the rights and obligations of a student memeber of the Chapter. At last, she provided an introduction about our new plan of activities in detail, which includes seminars, annual meeting and meetings of exchange. After the speech, the Chapter issued some questionaires by QR code and collected their suggestions or opinions about the plan.
The rest part of the meeting was free discussion. Each one of the members present introduced himself or herself one by one, including major, research field and recent work. After that, those who shared the similar interest got together and made a further discussion. Thus, several interst groups turned up and everyone got involved in the research communication.
After the meeting, all participants had a group photo taken to celebrate the success of this meeting.