Welcome
We are a student organization sponsored by Institute of Computational Mathematics & Scientific/Engineering Computing (ICMSEC), Chinese Academy of Sciences (CAS). We were founded in June of 2011 by a small group of enthusiastic students in ICMSEC, on the initiative of Professor Lloyd Nick Trefethen FRS (SIAM President of 2011--2012) and Professor Ya-xiang Yuan (our Faculty Advisor).
Our main goals are:
To build strong connections between SIAM and the students in CAS, between students and faculty, and among students from different research areas.
To encourage and help students to apply mathematics to real-world problems, by establishing links with industrial partners.
To promote the development of industrial and applied mathematics in CAS, even in China. This is our long-term goal. It is in this list because we believe that the optimal way to develop any science is to make more students get involved, as students are the future.
For past and future activities, please visit the Activities Calendar.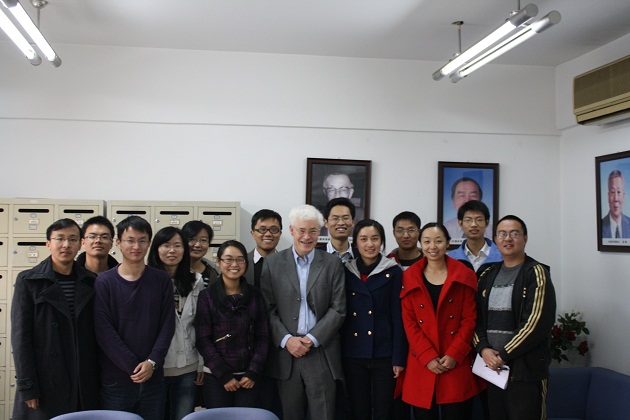 Meeting with Professor Nick Trefethen FRS, Nov 1, 2011
Latest News
new!
Lecture of CAS SIAM Student Chapter 2016-2017(I)
On December 24, 2016, Xin Lei was invited to give us a talk named "Research on Pressure Oscillation of Discontinuous Problem without Discontinuity of Pressure in Compressible Multi-flow Computation" in Lecture of CAS SIAM Student Chapter. Xin Lei is currently a Ph.D. student under the direction of Professor Jiequan Li in Beijing Normal University. His research direction is computational mathematics, and his main research interest includes numerical schemes in fluid computation. What's more, he would like to share his ideas in that research direction.
In his talk, he focuses on how to eliminate oscillations generated at material interfaces in numerical schemes. Firstly, he introduces some physical backgrounds of the fluid computation, and displays that oscillations do occur in ordinary schemes. Then he presents a kind of correction arithmetic for Godunov method which is able to prevent the oscillations of pressure as well as not to interfer computation of other physical variables in one dimensional spatial space. Besides, he generates it into two dimensional spatial space. In addition, he discusses how to deal with the arithmetic when it comes to unstructed grid.
The talk attracted many graduate students with various academic backgrounds, including two who are not the member of our chapter from other academies. After the talk, they had a hot discussion with the lecturer.