Welcome
We are a student organization sponsored by Institute of Computational Mathematics & Scientific/Engineering Computing (ICMSEC), Chinese Academy of Sciences (CAS). We were founded in June of 2011 by a small group of enthusiastic students in ICMSEC, on the initiative of Professor Lloyd Nick Trefethen FRS (SIAM President of 2011--2012) and Professor Ya-xiang Yuan (our Faculty Advisor).
Our main goals are:
To build strong connections between SIAM and the students in CAS, between students and faculty, and among students from different research areas.
To encourage and help students to apply mathematics to real-world problems, by establishing links with industrial partners.
To promote the development of industrial and applied mathematics in CAS, even in China. This is our long-term goal. It is in this list because we believe that the optimal way to develop any science is to make more students get involved, as students are the future.
For past and future activities, please visit the Activities Calendar.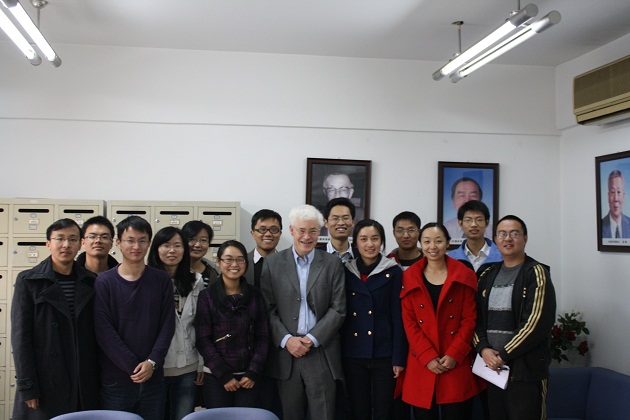 Meeting with Professor Nick Trefethen FRS, Nov 1, 2011
Latest News
new!
Lecture of CAS SIAM Student Chapter 2015-2016(III)
On April 19, 2016, Dong Zhang was invited to give us a talk named "TThe $1$-Laplacian Cheeger Cut: Theory and Algorithms" in Lecture of CAS SIAM Student Chapter. Dong Zhang is currently a Ph.D. student under the direction of Professor Kung-Ching Chang in Peking University. His research direction is nonlinear analysis, and his main research interest includes the theory of graph 1-Laplacian and Cheeger cut and the prescribed mean curvature equation. What's more, he has made a breakthrough in that research direction.
In his talk, he focuses on both theory and algorithms for the Cheeger cut based on the graph 1-Laplacian. The Cheeger cut theory can give a good approach to classify users of social network, which keeps some targets of different classes to be balance. In virtue of the cell structure of the feasible set, he proposes a cell descend framework for achieving the Cheeger cut. As for this framework, he designs two specified cell descend methods by plugging the relaxation to guarantee the decrease of the objective value in the feasible set, from which both the inverse power method and the steepest descent method can also be recovered.
The talk attracted many graduate students with various academic backgrounds, including those who are not the member of our chapter. After the talk, they had a hot discussion with the reporter.